Successful runners are the also the ones who believes in proper stretching before and after their runs. Stretching is essential if you want to have injury-free runs. Stretching for runners is highly ignored and is also responsible for many injuries that a runner gets. Running with muscles that are cold can result in a muscle strain that could keep you off running from days to months. Starting each running with a 5- to 10-minute jog followed by stretching helps warm up the muscles sufficiently. One should focus on stretching the major muscle groups used in running — the quadriceps, hamstrings, gluteals and hip flexors. Before we look at some of the commonly used stretch exercises, lets have a look at the stretching tips for runners. 
Five stretching tips for beginners:
Warm up muscles by walking and doing other gentle movements

Start slow and stretch gentle

Breath slowly and rhythmically as you stretch

Keep the back straight and proper posture while stretching

Hold on to each stretch for 20-30 sections
Stretches for Runners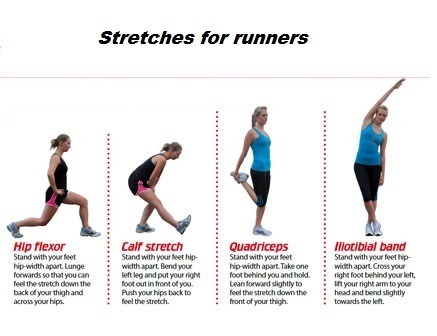 Hip Flexor
Stand with your feet hip-width apart. Lunge forward so that you can feel that stretch down the back of your thigh and across your hips
Calf stretch
Stand with your feet hip-width apart. Bend your left leg and put your right foot out in front of you. Push your hips back to feel the stretch.
Quadriceps
Stand with your feet hip-width apart. Take one foot behind you and hold. Lean forward slightly to feel the stretch down the front of your thigh.
Iliotibial band
Stand with your feet hip-width apart.Cross your right foot behind your left. Lift your right arm to your head and bend slightly towards the left.