With the temperatures soaring, staying hydrated is one of the golden rules everyone must follow to keep themselves fit in this sweltering heat. In summers, there is excessive sweating due to which the body tends to lose water faster than usual. As mentioned earlier, the mantra is to stay hydrated. Having said that, you need not have only water; there are numerous healthy summer drinks that can help you beat the heat. This summer, let's ditch soda drinks and satiate our taste buds with some amazing homemade healthy summer drink recipes that are quick, easy to follow and taste heavenly. Let's get started:
Buttermilk or Chaanch
What You'll Need
Yogurt- 1 cup

Water- 2-3 cups

Cumin powder- 1 tsp

Coriander powder- 1 tsp

Salt- ½ tsp
Preparation Method
Start by blending the yogurt and dilute it with water according to the consistency you wish for. If you want your buttermilk to be thick, add less water and if you wish it to be thin, add more water to it

Next, add coriander powder, cumin powder and salt to it

To add more freshness to the drink, add mint leaves

Keep in the fridge and serve when chilled
Health Benefits
Not only is buttermilk delicious, but it also has some amazing health benefits. Buttermilk helps in curing acidity, stomach reflux, dehydration, and boosts the digestive process. The drink is loaded with protein, Vitamin B12, calcium and potassium.
Shikanji
What You'll Need
Lemon- 1

Sugar- 1/2 tsp

Black salt- 1/2 tsp

Jeera powder- 1/2 tsp

Water- 1 glass
Preparation Method
Squeeze lemon juice

Add all the above mentioned ingredients in water

Keep stirring until sugar gets dissolved

If needed for immediate consumption, add ice cubes and serve, else keep in the fridge and serve when cool
Health Benefits
During hot days, Shikanji can re-energize you instantly. Furthermore, the drink helps fight digestion problems and dehydration.
Watermelon Juice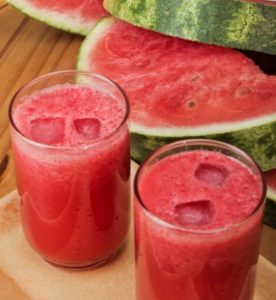 What You'll Need
Watermelon flesh, cubed and seeded- 4 cups

Large mint leaves- 3-4

Small lemon

Ice
Preparation Method
Put watermelon flesh in a juicer and blend it

Add fresh mint leaves and further smoothen the mixture

Add lemon and blend again (this step can be skipped in case you do not want to add lemon)

Add ice and enjoy your drink
Health Benefits
Watermelon is a rich source of Magnesium, Vitamin C and Potassium. The fruit helps in losing weight, has an anti-inflammatory effect, improves kidney health, is good for skin and hair, and also helps fight cancer.
Sauf (Fennel Seeds) Sharbat
What You'll Need
Fennel seeds (saunf) – 1-2 tsp

Water- 2-3 cups

Mishri or sugar- 1 tsp

Pinch of black salt

Lemon juice
Preparation Method
Take fennel seeds and grind them until it turns into a powdery form

Once the powder is ready, add it to water

Mix well and strain the mixture

Next, add sugar or Mishri per your taste

Add a pinch of black salt (this step can be skipped in case you do not like black salt)

Put the drink in the refrigerator and serve when chilled
Health Benefits
Sauf is a well-known source of antioxidants, Potassium and dietary fibers. Sauf helps in curing bloating problems, abdominal pain and gas.
Aam Panna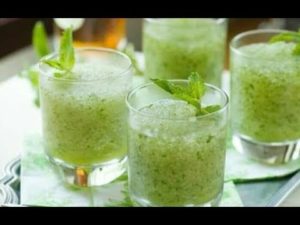 What You'll Need
Large raw mangoes- 2-3

Sugar- 1 / 2 cup

Salt- 2 tsp

Black rock salt- 2 tsp

Roasted and powdered cumin seeds- 2 tsp

Finely chopped mint leaves- 2 tsp

Water- 2 cups
Preparation Method
Scrape the skin off the mangoes

Wash the peeled mangoes properly

Boil the mangoes for around 15-20 minutes until they become tender from inside and the skin gets discolored

Let the mangoes cool

Separate the pulp from the seed

Next, add water and all the ingredients to the pulp

Stir the pulpy mixture properly

Keep in the refrigerator or add ice cubes

Garnish with mint leaves before serving
Health Benefits
This drink is tangy and is perfect to fight digestive problems, dehydration and heat stroke. The drink is rich in Iron, Vitamin C and Vitamin A. 
This summer try these drinks that are fresh and full of health. Add these to your summer diet and get ready to beat the heat!
Image Courtesy: Google