Due to the deteriorating air quality in Delhi, IMA (Indian Medical Association) has appealed to the organizers of Airtel Delhi Half Marathon to cancel the upcoming marathon scheduled to happen on November 19, 2017, in New Delhi. According to a report in The Indian Express, IMA said that it will write to the Delhi CM, Chief Justice of High Court and the National Green Tribunal to issue a similar directive to the organizers of popular marathon.
"If the AQI (air quality index) is above 100, it is prudent for race administrators to warn participants and volunteers, particularly those with lung conditions, about the potential risk," said KK Aggarwal, the national president of IMA. He further added, "While deciding the dates, the organisers should take into consideration the air quality at the time of the marathon so that no runner suffers any adverse effects on account of exposure to hazardous levels of air pollution,"
Post-Diwali this year, the AQI in Delhi NCR have been averaging above 300 marks in most places, which is in the category of 'very unhealthy' and 'severe' levels. The levels are considered hazardous for doing any form of outdoor exercises like running.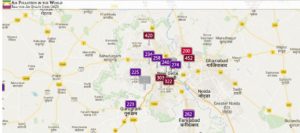 The organizer, Procam International,  shot down the demand and called it "short-sighted and misplaced". "The race day keeps cars off the designated 21 km of the city. Salt mixed with effluent-treated water is used to wash the course which ensures that dust pollution is negated making the race a far more conducive environment for running," the organiser said in a statement, according to The Hindu. They added that the runners were aware of the air quality situation in Delhi. The organisers said they would set up six medical stations across the distance and deploy seven ambulances.
In 2016, a lawyer has taken up the matter to Supreme Court demanding cancellation of the marathon. In response, a bench of Chief Justice T S Thakur and Justice A R Dave had said "People have a fundamental right to run. We cannot stop them. We cannot say anything in this (regard). If some people want to run, we cannot stop them." The marathon did happen in 2016 where most people were seen using masks to counter the hazardous air.