If you are starting on a fitness regime like walking, running or cycling and looking to buying either a fitness tracker/band or a smartwatch, you are most likely to run into several options available in the market. If it was 2 years ago, there were only limited options available but recently, India has become one of the hottest market for the wearables brands. In the last 6 months itself, several new names have come into play providing the best of technologies at most affordable prices. You have the options available starting from Rs. 1000 to Rs. Rs. 25,000 and you could choose between a simple no-nonsense fitness bands to high-ends smartwatches to offer activity tracking features along with various other utilities.
In order to make a smart buying decision, it's important to know your goals or objectives, and of course your budget. We spoke to several people to understand various goals and objectives and later identified 3 most popular goals. Therefore, we can possibly look at these 3 scenarios:
I just need a basic fitness tracker to calculate my steps and how much calories I burn. Additionally, sleep tracking option will be a bonus | Budget: Rs. 1000 to Rs. 7000

I want to have the heart rate monitor option as well in the device along with activity tracker option | Budget: Rs. 12,000 to Rs. 20,000

I want more than a tracker to know about the calls/ sms I might be getting during the workout | Budget: Rs. 15,000 onwards
Depending on each objective, following are the most popular options available in the market currently.
Fitness bands offering basic feature of steps counting, calories burned and sleep tracking
GOQii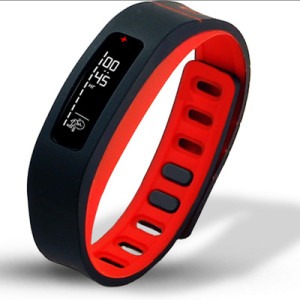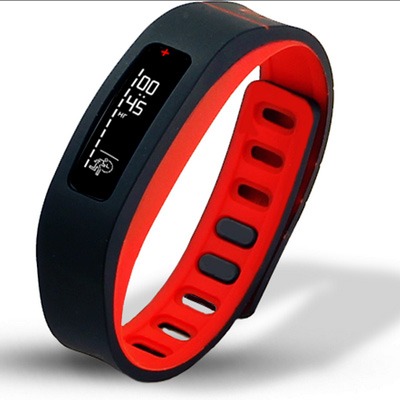 GOQii's advanced fitness tracker comes with a bevy of features including a full touch display, a vibrating alarm, automatic wireless syncing via Bluetooth and many more facets. It tracks number of steps, distance, calorie burnt and nunber of hours of your sleeps. But the best part about GOQii is you also get a coach who monitors and talks to you daily about your fitness routine and guides & motivates you towards achieving your fitness goals. This makes GOQii wholly unique as it integrates a wrist-worn device with a day-to-day personal relationship with an actual coach who will interpret the data, set goals, identify challenges and motivate the users to reach permanent and healthy lifestyle changes.
Price: ₹ 3999 for a 3-month coach subscription
Mi Band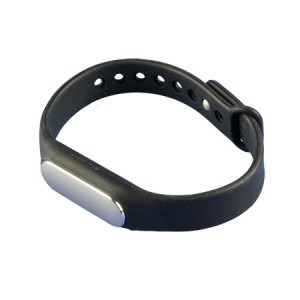 Popular smartphone make Xiaomi had recently introduced their flagship Mi Band with a 30 day battery life. It does not have a touch screen or display but LED lights that updates you about the activity. It comes with a core tracker that counts steps, shows distance walked, calories burned and even tracks sleep. The Mi Band also comes with a smart alarm system that sends out vibration at desired time. The tracker is water-resistant and can be used to unlock any Android smartphone without password. The Mi Band also does notify about incoming calls and pairs with smartphones through Mi Fit app and Bluetooth.
Price: Rs. 999
FitBit Flex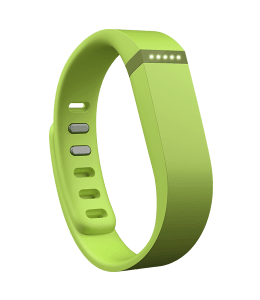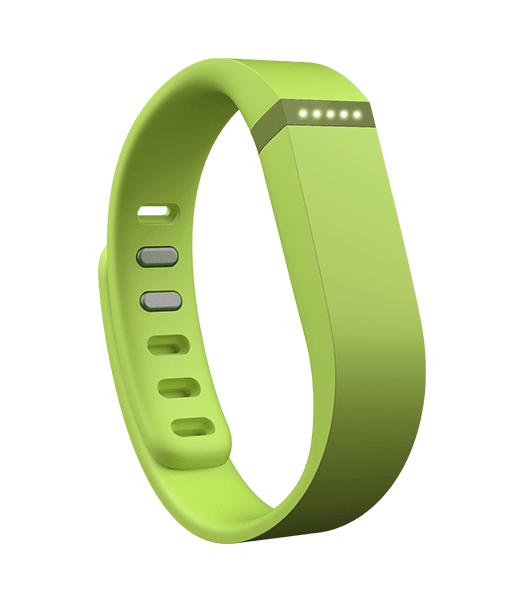 It's a stylish activity and sleep-tracking wristband that offers a slim, minimalistic design for people that are goal-oriented and want more flexibility in accessorizing; tracks steps taken, distance traveled, calories burned, active minutes and sleep. It comes with a 5 days of battery life and is very light and you feel comfortable wearing it all day and night. The long lasting battery life makes it easy to use it continuously for more than 5 days without worrying about charging. It doesn't have a display screen but combination of LED lights tell you about your progress each day.
Price: ₹ 6990
Yufit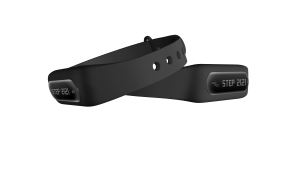 Yu Televentures, a subsidiary of Micromax, has announced the launch of a fitness band, YuFit recently. YuFit is a wireless wristband that works in tandem with a dedicated app to monitor fitness levels, set alarms and reminders. The device features an OLED display that can track steps, track your sleep cycle and also, alert you about incoming calls and messages. The other cool feature includes 'Ask the expert option'. The nutritionists and fitness experts are available 24 x 7 to provide guidance on how to reach targets. YuFit experts work with the user's data to provide customized advice on a regular basis, and to keep the user motivated and on track to success by goal reinforcement.
Price: ₹ 999
Garmin Vivofit 2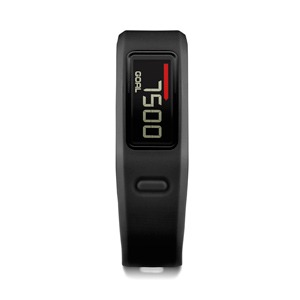 Vívofit 2 tracks your progress 24/7 and can stay on for more than a year without a battery change. Vívofit 2 features a backlight and shows steps, goal countdown, calories, distance, and time of the day so its display can be read anytime, even at night. You can wear the band to bed and Vívofit 2 will monitor your rest. On your Garmin Connect page, you can view your total sleep hours, as well as periods of movement and restful sleep.
Price:  NA
Fitness bands/ trackers/ GPS watch offering basic features plus heart rate monitoring
Fitbit Charge HR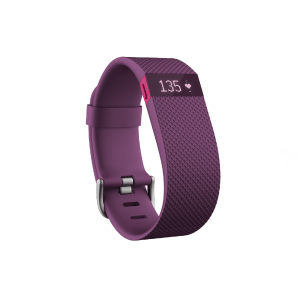 Its an advanced fitness tracker that delivers PurePulse™ continuous wrist-based heart rate tracking, all-day activity tracking, Caller ID and automatic sleep detection for active consumers looking to push their fitness further. Fitbit Charge HR includes all the great benefits of Fitbit Charger and is a high-performance activity and sleep wristband.
Price: ₹ 12,990
TomTom Runner Cardio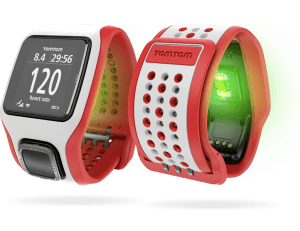 TomTom is a very popular GPS tracking device and has range of watches designed for different types of workout. It is particularly popular among serious runners. TomTom Runner Cardio stands out among GPS watches because it has a built-in heart-rate monitor. The watch is a simple device for people who want to track their running workouts. In addition to heart rate, the device measures the distance, time, pace, speed and calories burned while you run, and displays them on a large, easy-to-read screen. It also displays the time of day.
Price: ₹ 20,999
Smartwatches with activity tracking option
Moto 360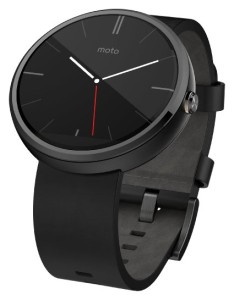 When you want a smartwatch that can also act as a fitness tracker, Moto 360 is on the best options available. It is beautifully designed and acts as second screen for your mobile phone. It can displays calls, texts, emails, and other notifications as they come in, and even lets you reply right from your wrist. It offers persistent heart rate monitoring (unlike other smartwatches) and counts your steps too. It doesn't track sleep and you have to charge it every night.
Price: ₹ 12,999
Fitbit Surge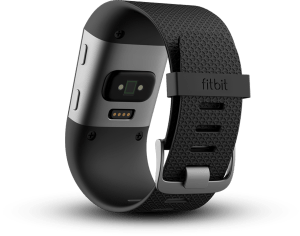 It's a super watch from FitBit that combines popular features like GPS, PurePulse continuous wrist-based heart rate tracking, all day fitness tracking with smartwatch functionality in one device for people dedicated to reaching their peak performance. It comes loaded with all essential features of an activity tracker plus a smartwatch. It has built-in GPS, a heart rate monitor and real-time workout data. It comes with a large LCD display to your wrist and it's able to fit multiple stats. Fitbit Surge has a total of eight sensors crammed into its large frame so that it can track your movements beyond the usual steps, distance traveled and calories burned.
Price: ₹ 19,990
Apple Watch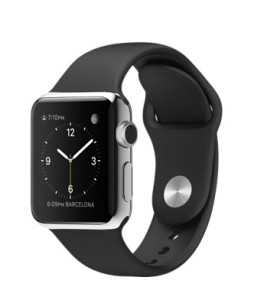 Apple Watch is probably the most popular of all the smartwatches available today.  It has a beautify design and offers all the features that should be there in a smartwatch. A prominent feature of the Apple Watch is its health and fitness tracking capability. It monitors your movement throughout the day, including workouts, and even reminds you to get moving.  Fitness isn't just about running, biking or hitting the gym. It's also about being active throughout the day. So Apple Watch measures all the ways you move, such as walking the dog, taking the stairs or playing with your kids. It even keeps track of when you stand up, and encourages you to keep moving. Apple Watch also lets you track heart rate. One thing that it lacks is sleep tracking option.
Price: ₹ 36,999