Registration now open for the IV Anantapur Ultramarathon, which will gather Indian,




international

runners

to cover 170km against poverty and discrimination

The funds raised will be used to build 57 houses for families living in tents and huts
The IV Anantapur Ultramarathon will take place from 24-25 January 2019 covering a total distance of 170k across the remote villages and arid landscapes of the Anantapur district, in Andhra Pradesh. The sporting event is organized by the Rural Development Trust (RDT), an NGO working for rural development with a focus on children, women and persons with disabilities. The Ultramarathon will coincide with the 50 anniversaries of the organization, established in 1969.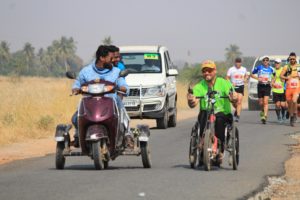 The race is the only relay ultramarathon in India. Organized in teams of four, each runner will run a full marathon (42K) in stretches of approximately 10K. Jeeps will carry runners from one transition point to another, where they will be able to rest, reprovision and interact with local communities. As a new category for 2019, the Anantapur 10K will allow participants to join the ultramarathoners on their last 10K until the finish line.
'One km, one life'
AUM is an original initiative by Juan Manuel Viera, an ultrarunner from Spain and a volunteer of RDT. In 2015, he combined his passions—running and social change—and decided he would run a kilometer for every new sponsored child under RDT's programmes in Anantapur district. In three editions, the Anantapur Ultramarathon has managed to fundraise INR 1.5 crores and to sponsor more than 600 children and engage runners from Anantapur, Spain and the USA, including runners with disabilities.
The funds raised in 2019 will be used to reconstruct the Sundaraiah village in Anantapur, where 57 families currently live in huts and tents without access to basic hygiene and sanitary facilities.
Register and run for a change
Ticketings for the Anantapur Ultramarathon and for the Anantapur 10k are available on YouTooCanRun. The organization will arrange boarding and lodging in its facilities.