1/3rd Indians over 30 years suffer from Lifestyle diseases 
4% people are suffering from high cholesterol, followed by 7.7% with diabetes and 6.7% with thyroid
Improper nutrition, lack of sleep and stress are adding to the fitness woes of Indians
Kolkata is the unhealthiest city with 35.7% population suffering from at least one lifestyle diseases; Bangalore is the new fitness capital of India closely followed by Mumbai and Pune on second and third spot
Average step count of Indian increases from 6680 to 7746 steps
GOQii, the health and wellness ecosystem, has recently released it's India fit report which reveals some hard facts. As per the GOQii India Fit' 2017, while, the average daily step count of an individual across India is 7746 steps, a steady increase over last year's figure of 6800 step counts, it still does not match the recommended daily step count of 10,000 steps  by World Health Organization in order to lead a healthy lifestyle.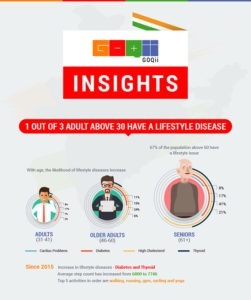 According to the report, Bengaluru and Much as moved ahead of Mumbai and is dubbed the most active city with a daily average step count of 7915. Bengaluru and Mumbai are followed by Pune. Younger population (below 35 years age bracket) in Bengaluru and Chennai is more active as compared to people in other cities.
While it is overwhelming to note that people are walking and striving to be fit, the alarming fact is that chronic lifestyle diseases are a cause for concern in the current times and the epidemic is spreading like wildfire here in India. There have been disruptive lifestyle changes in the country over the past two decades mainly due to the rapidly evolving urban economy and the Indian Middle class.
As per the GOQii India Fit' 2017 report, 33% of the Indian population above 30 years of age is suffering from one or more lifestyle diseases such as diabetes, cardiac problems including high cholesterol, blood pressure, thyroid, and Cancer. Close to 9.4% people are suffering from high cholesterol followed by 7.7% suffering from diabetes and 6.76% people suffering from thyroid.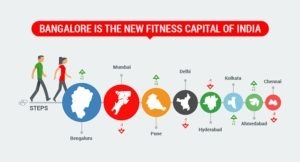 Based on data from over one lakh subscribers of GOQii both male and female from across 8 fitness conscious cities in India namely Ahmedabad, Bengaluru, Chennai, Delhi, Hyderabad, Kolkata, Mumbai and Pune, the report states that since 2015 there is a consistent increase in lifestyle diseases. As per data, a major cause for concern is high cholesterol among individuals.
It is estimated that around 130 million may suffer from lifestyle diseases such as diabetes in the next few years.  Apart from these two diseases, the other prevalent chronic diseases are Cardiac ailments, hypertension, and high blood pressure. The risk factors for chronic diseases are highly prevalent among the Indian population.
Vishal Gondal, Founder, and CEO of GOQii says: "Over the years, there has been an increase in the number of chronic diseases due to the disruptive lifestyle changes in the country. Lack of exercise, erratic eating habits, increase in stress levels and poor sleep patterns are just some of the key reasons behind the increase of this epidemic''."
Data starting January 2016 through December 2016 was collected to determine the various fitness metrics (rest & activity) such as steps, food, water, sleep, etc. We have been very meticulous in collecting data and then deciphering it to be realistic so as to bring out near accurate results.
Another alarming fact is Kolkata has earned the tag of being the unhealthiest city in India. The majority of the population in Kolkata suffers from lifestyle diseases related to stress, cardiovascular ailments, and digestive disorders. Kolkata also tops the chart with the highest number of digestive disorders. Cities like Chennai, Ahmedabad, and Hyderabad have maximum cases of obesity amongst Indians. Although awareness around the use of medication amongst people has increased, their lifestyle is still the same as there is no one to tell them the benefits of lifestyle change.