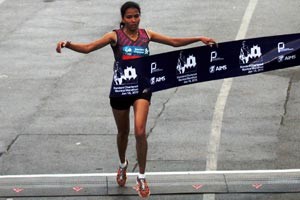 Ethiopian runners ruled the roost, finishing with a bag full of medals in the USD 360,000 prize-money 2015 Standard Chartered Mumbai Marathon, on Sunday. Tesfaye Abera, making his debut in the men's category and women's defending champion Dinknesh Mekash, led the charge as the Ethiopian dominated the field, by winning five of the six medals on offer. Luke Kibet of Kenyan denied the Ethiopians of a clean sweep by grabbing the third place in the men's event. 
The 22-year-old Abera unknown to Marathon running emerged as the surprise of the pack by clinching the first place with a time of 2:09:46 secs, on a not-too-cold Sunday morning. Abera who ran the last stage of the race alone just missed out on improving the course record of 2:09.32 secs, which was set by Uganda's Jackson Kiprop in 2013. His countryman Dereje Debele did well to finish second with a time of 2:10:31 just ahead of Kibet who clocked a time of 2:10:57 and in third position.
The Indian women runners also had a field day, as O.P. Jaisha making her debut overshadowed defending champion Lalita Babar, winner of the last three editions, to clinch the top honours with a new national record time of 2:37:29. Babar, who held the previous course record of 2:50:31 set last year, clocked a time of 2:38:21, to finish in second place, while Sudha Singh was placed third in 2:42:12. All three girls completed the race well within qualifying mark of 2:44 for the 2015 World Championship in China.
The men's race did not witness a stiff competition as many of the favourites dropped out for different reasons. Kenya's Henry Sugut, Jacob Cheshari and Filex Kiprotich dropped out of the race due to stomach problems and dehydration. However, the younger Abera was unaware of the situation and continued to run strongly as he kept pace with the front runners till the 26km mark before gradually increasing the pace to open up marginal a lead. But after 31km  the sped away and ran alone for the remainder of the race before breasting the tape at the finish line.