Technology is affecting our health in positive and negative ways. The Seattle Times wrote an article on how smartphones are affecting physical health as "every hour spent on a device is likely to be an indoor, sedentary one." Yet a recent push towards virtual reality (VR) fitness technology could be the start of a new health revolution.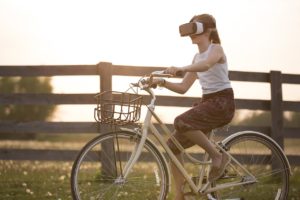 There are already several VR fitness apps on the market. VR Heads has listed the best VR apps for exercise that can turn games into a good workout. For instance, they recommend putting weights on your ankles and playing an action heavy game like Holopoint or Dead and Buried. One of the best VR equipment considered for fitness is the VirZOOM. The site revealed that the exercise bike has "a unique set of sensors and controls designed to work with Oculus Rift, HTC Vive, and PlayStation VR." The traditional type of app for the bike is a cycling game although the VirZOOM has apps that can put you on a horse or in a tank. 
The biggest advantage of exercising using VR is that it is much more likely to motivate a person than a gym membership. Gyms are expensive and can be daunting places for a lot of people who are struggling with their fitness. VR workouts allow them to workout in their own space in a fun and enjoyable way compared to spending hours on the treadmill. The fact that VR apps now come on smartphones shows how far the technology has advanced and why mobile gaming could be the way forward for fitness.
The statistics demonstrate how popular the mobile gaming industry has become. Metakix reports that the mobile gaming industry was worth $40.6 billion in 2016 and that an estimated 800,0000 games are obtainable on app stores. This is a clear reflection of consumer habits with Gaming Realms pointing out that 80% of their audience use mobile devices. To keep up with demand, their flagship online gaming outlet, Slingo is designed to be played on a mobile or tablet. Like the VR fitness industry, online gaming is taking a pastime that was usually confined to specific locations, the gym and the casino, and putting them on mobile phones to keep up with customer demand and provide 24/7 accessibility. 
It isn't just VR exercise or gaming apps that could potentially help fight obesity. According to a CNN report,  a team of Japanese scientists have claimed that their diet goggles will help users lose weight. Researchers at the University of Tokyo's Cyber Interface Lab have found that VR headsets can hack the brain's senses. The CNN report states that this works: "in ways that reduce appetite, make low-fat foods taste delicious and trick our brains into thinking we're eating more than we are." This is done by using a VR system called "Augmented Satiety" to virtually increase the size of a food item. The technology is claimed to reduce the amount of food a person eats by 10%. A reporter for CNN tested the technology with a cookie. He found: "Not only did the size of the cookie change, but also the angle of his fingers holding the object was altered to ensure the brain fully believed the hoax."
Technology may be making us lazier, but there is a chance that in the near future it will also make us healthier. VR could prove to be an effective tool in the fight against obesity.