Felicitates Deepa Malik, Geeta Tandon, Vijaylaxmi, Zaariapatni and 12 others who proved that women are not the weaker sex
Reebok is celebrating the struggles, dreams, and triumphs of unsung "women heroes", who have overcome physical, mental and social barriers to achieve great things in life, by culminating the first edition of its #FitToFight awards.
Hosted at the Grand Hyatt, New Delhi, the event was presided by Reebok's brand ambassador, Kangana Ranaut – who fought all odds to become Bollywood's biggest Blockbuster. Kangana inspired the audience regaling their real-life experiences and affirmed that physical, social and mental fitness can overcome all obstacles.
On a night of grit and glory, Reebok honored these 'unsung women heroes' who have been a victim of either physical abuse, social trauma or disability but changed their destiny through courage and conviction. The journey that began on International Women's Day, saw 100 plus stories of courage, determination and faith. These women have challenged themselves to rise above the ordinary. And Kangana Ranaut, the Queen of Bollywood and Reebok's brand ambassador have worked closely towards bringing out the inner strength of women, inspiring and encouraging them to take that leap of faith and conquer. 
Ms. Silvia Tallon, Senior Marketing Director, Reebok India, elated at the success of the occasion commented, "I am proud to be associated with a brand that has given women a global platform to share their struggles. Through this campaign, not only have we found these heroes but have also inspired millions of women to come out and face their battles head-on. FitToFight is a state of mind and Reebok endorses the faith that every woman can fight all odds once they are at their fittest best. We salute the spirit of every woman who has faced obstacles and continue to challenge themselves daily in search of greater accomplishments."
First of the many awardees was Deepa Malik who fought her disability to become the first Indian woman to win a medal in Paralympic games. Another awardee in the physical category was Geeta Tandon, a woman who changed her destiny from a marital rape victim to becoming the most coveted stunt woman in Bollywood. In the social category, Reebok identified the efforts of Smriti Singhal who taught the world that we are not the "marks we get but the dreams we chase". The founder of 'The Education Tree', Smriti was one of the first to identify the need of holistic education and despite her health issues, she chose the path of fitness to battle the jibes of body shamers, while also taking her organization to new heights.  Another awardee in this category was Malini Aggarwal, founder of MissMalini Media, who pioneered Indian lifestyle blogging. She paved way for the blogging community by turning her dream into reality. The last category awarded those who fought the mental turmoil of societal pressure and proved women can take on the world, come may what! In this category, Reebok identified the likes of Zaaria Patni a woman who came out of a bad marriage at a very tender age only to give her son a better life away from the man who gave her living nightmares and Chef Vijaylaxmi, who though confined to the kitchen, took a bold decision for her daughter by taking on her culinary passion to the commercial kitchen. (Full awardee list in Annexure) 
Sharing her excitement about the association, Kangana Ranaut, Brand Ambassador, Reebok India said, "I have been immensely inspired by the stories of every woman present today. Scripted stories often tend to move us, but today every person has episodes as 'real' as it can get. And each is powerful enough to create a stir. I am happy to be associated with Reebok, who as a brand identify such harsh reality and celebrate the truth. This has inspired me beyond measure and I am proud to have played a part in this campaign. I hope these stories will give wings to many other women and help them come out of their shell."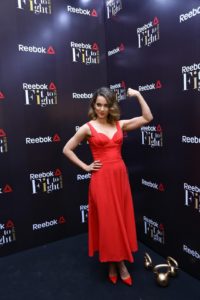 The hi-decibel event also saw a power packed performances from famous singer, Anushka Manchanda and amazingly talented 'Ability Unlimited' who enthralled the audience with their talent. Reebok has paved way for those who are unable to break out from their physical, social and mental confinements, through the powerful personal stories and fitness journey of these women and the night was the perfect ode to all these heroes.
Reebok's "Be More Human" campaign which kicked off on International Women's Day, spanned through almost the entire year and reached over thousands of women across India. The campaign celebrates people who push themselves out of their comfort zones to fulfill their human potential and ultimately become better version of themselves. The FitToFight series has not just rewarded women who showed their courage and conviction to fight all odds but also inspired a million other men and women to take the plunge to be FitToFight and adopt Reebok's Fitness is Life philosophy.