While the direct and indirect benefits of running are innumerable, another study indicates that people who run in groups are likely to quit smoking easily. According to the study by UCB, over 178 smokers had registered to run in in the 'Run to Quit 2016' program and around 72 of them stuck to 'No-Smoking' until the final week.
Further, the report indicates that nearly 50% of the people who completed the 10-week program was able to successfully quit smoking.
Carly Priebe, a postdoctoral fellow in UBC's school of Kinesiology statement on the study reads, "This shows that physical activity can be a successful smoking-cessation aid and that a community-based program might offer that. Because doing it on your own is very difficult."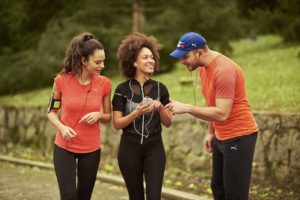 Out of the 72 people who stuck to not smoking, 37 participants had their claims of quitting verified by carbon-monoxide testing. The number of successful quitters held up during follow-up interviews six months later.
Coaches received training from UBC researchers in administering questionnaires. They use a tool called the Smokerlyzer to measure carbon monoxide in participants' breath. Researchers revealed significant improvement in participants' mental health and their average carbon monoxide level also decreased by about one-third during the program.
Priebe lead author of the study said, "Even if someone wasn't able to fully quit, reducing their smoking is great."
Run to Quit is a partnership between Running Room and the Canadian Cancer Society, and is funded by the Public Health Agency of Canada.
UBC kinesiology professor Guy Faulkner led the research team and co-authored the study, along with John Atkinson of the Canadian Cancer Society. The study will be published in the October 2017 issue of Mental Health and Physical Activity.