While the whole world seem to be in Aww of Virat Kohli for his yet another successful run chase in a recent match, it's important to highlight his love for fitness that is probably one of the reasons why he is able to win matches for India time and again. There is no doubt the role of fitness in any sport, and even in cricket, players of the likes of Virat are taking up to Gym to become faster and stronger.
In the recent times (from end of 2015), Virat Kohli has been seen wearing a watch on his wrist while training, playing or even when walking around. On a closer look, it's not difficult to guess that the watch is FitBit Surge, the super watch from FitBit which is GPS enabled and has a continuous wrist-based heart rate tracker. If used effectively, FitBit Surge can help user reach their peak performance when you train in specific heart rate zone.
In a post-match interview (against Australia), Virat was heard saying, "We run very well together (with Dhoni) and that's why you train in a gym. That's why you do those fitness regimes, those sprints and all the other tests that you go through. I like to play for when I'm tired and I should be able to run as fast as when I am on zero and I think that training paid off today."
It is noteworthy to see the transformation Virat Kohli has achieved with his fitness, shredding those extra kilos and now looking much slimmer and fitter. He is electrifying on the field and probably the fastest runner between the wickets, all thanks to his class, dedication and approach towards fitness.
Talking about his FitBit Surge that Virat uses, the watch comes loaded with all the essential features of an activity tracker plus a smartwatch. It has built-in GPS, a heart rate monitor and real-time workout data. It comes with a large LCD display to your wrist and it's able to fit multiple stats. Fitbit Surge has a total of eight sensors crammed into its large frame so that it can track your movements beyond the usual steps, distance traveled and calories burned.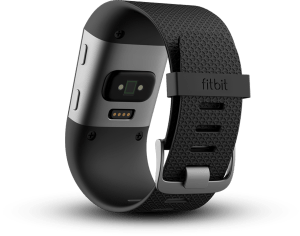 Fitbit is now slowly making an entry into the Indian market and with the growing interest for marathons and cycling. 
Check out the upcoming marathon near your city at India Marathon Calendar https://www.fatmarathoner.com/marathon-calendar/