Just Keep Moving: Finding the Right Fitness Tracker
The best fitness trackers are the ones that anyone — from a couch potato to a professional triathlete — can comfortably wear all day, every day, and actually use to get consistent, accurate statistics about their activity level. (And then, theoretically, improve their fitness based on that information.) We looked at over 70 fitness trackers, evaluating each one's sensors, software, accuracy, battery life, band comfort, and all-around usability to find our top picks.
Best Overall
Fitbit Surge: One of the most accurate trackers we tested, the Surge has a user-friendly interface and sensed the widest range of movement. It also has a huge social component, letting you compare stats even with people not using a Fitbit. ($250)
Best for Endurance Training
Garmin Vivoactive HR: For anyone who loves getting nitty-gritty with data. ($250)
Best Basic
Mio Fuse: Simple, accurate, and completely waterproof. ($99)
A fitness tracker on your wrist can tell you your current heart rate, how many calories you've burned, how far you've walked, and even how many steps it took you to get there. Some can measure how you sleep, sync with your phone, and let you share stats with friends and rivals online. The one thing it won't do is make you any healthier. Youhave to do that. But knowledge is power: Applying the information a good fitness tracker provides to make a few healthy changes — like walking a little farther each day, or using the stairs instead of an elevator — can help you reach your fitness goals faster than you would without.
Our Top Pick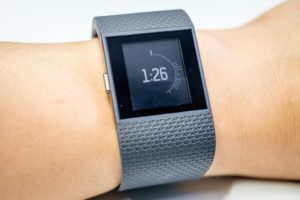 A good fitness tracker should offer easy access to all the information you need about your daily routine — and help you make informed decisions on ways to improve that routine. It's that simple. So to find the best fitness trackers, we looked for the ones that made it as painless as possible without sacrificing statistical accuracy. The Fitbit Surge topped our list: It performed well in our accuracy tests across multiple types of exercises and body movements, and it was easy to use straight out of the box, with a just large-enough built-in display. It costs a not-cheap $250, but we think it's worth it.
If you're an endurance athlete looking to take your training to the next level — or a data nerd who loves to get dirty with stats — our runner-up, the Garmin Vivoactive HR (also $250), is your best choice. From heart-rate tracking to elevation changes, to all-day activity monitoring, the sheer volume of accurate data it pumps out will give you the most to work with to better your training, especially for activities like running and biking.
If you're worried about information overload (or you plan on going swimming with your tracker) try the Mio Fuse, our budget pick. At $99, it's the cheapest option of all our top picks — and the most basic — but it's still accurate, dead simple to use, and completely waterproof.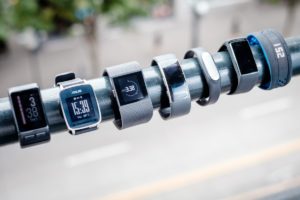 How We Found the Best Fitness Tracker
3 New Trackers that Weren't Available for Testing Fitbit, maker of our top pick, released two models shortly after we had completed our testing for this review: the Flex 2 and Charge 2. The new Apple Watch Series 2 wasn't available yet either. While we can't speak to their accuracy (since we couldn't test them), these new fitness trackers are also likely worth a look.
We started with a list of 78 fitness trackers. (That's every one we could find on the market.) Then we spoke with several fitness experts to determine the most important features for an effective fitness tracker, which helped us narrow down our list to seven to actually use and test.
We dropped trackers that didn't wirelessly sync with mobile devices.
The best fitness trackers shouldn't rely on a smartphone to capture the data you need — but mobile devices do come in handy when a tracker is paired with them. The screens are bigger and easier to see, which makes the fitness tracker's software easier to navigate (and it's less awkward to bring to the gym than a laptop). A wireless Bluetooth sync also allows your phone to collate and analyze raw data from the fitness tracker in real time, too, which allows you to compare your current workout to past ones mid-exercise to (theoretically) push your limits a little further each day. Smartphones also let you log your calorie intake throughout the day, allowing you to make more accurate assessments of how many calories you still need to burn to meet your goals. Most fitness trackers can do this — even weak ones — so if a tracker lacked Bluetooth-syncing capabilities for either iOS or Android devices, we cut it.
We also cut any fitness tracker without a built-in heart rate monitor.
Heart-rate monitoring is one of the main things that separates a fitness tracker from a simple step counter. Heart rate monitors offer a much richer source of information: They can compile a relatively accurate estimate of a user's calorie burn, stress levels, sleep quality, and, over time, changes in overall cardiovascular health — all by gathering data on how hard your heart works throughout the day and night.
Fitness trackers with built-in heart monitors keep track of your pulse and blood pressure through optical sensors, which measure the blood flow through the veins in your wrist. (They're less accurate than chest strap-mounted heart rate sensors, but no one we know would wear a chest strap all day to measure their heart rate.)
Any tracker that wasn't at least water-resistant got dropped, too.
A fitness tracker that can't get wet is useless. People sweat when they exercise. (Please, please, please consult your doctor if you don't.) If you ever go outside, it's likely you'll encounter something called rain. Even if you jog in the Atacama Desert, you're going to need to wash the dust from your tracker sooner or later — the makers behind all our top picks recommend washing their trackers after each use with mild soap and warm water, in fact. Our budget pick, the Mio Fuse, is actually fully waterproof to 30 meters.
We also cut any fitness trackers that require off-board sensors.
We wanted to find the best all-around fitness tracker straight out of the box. To do that, we didn't see the point in paying for and opening any additional boxes — especially when there were still so many trackers on our contender's list that provided all the perquisite sensors in one, low-profile wristband. Additional parts are easy to lose, create extra costs, and you're probably not going to wear that chest strap or earpiece heart rate monitor to the office anyway.
Then we started exercising.
We had 19 fitness trackers left — multiple trackers from the same seven manufacturers. We picked the newest (and supposedly most up-to-date) models from each for our final round of hands-on testing: the Polar A360, the Fitbit Surge, the Garmin Vivoactive HR, the Mio Fuse, the Microsoft Band 2, the Xiaomi 1S Band, and the ASUS VivoWatch.
In order to figure out exactly how accurate, comfortable, and easy to use our remaining seven top contenders were, we began with the setup process. Our budget pick, the Mio Fuse, was up and running in less than five minutes. The Fitbit Surge, our overall top pick, only took a few minutes longer.
On the other end of the spectrum: The Microsoft Band 2 never actually fully synced with one of our tester's iPhone 6 — without requiring continuous reboots, at least. We even called customer support to no avail. It was the sharpest-looking tracker in our final test group, but this was an unequivocal DQ.
Similarly, the Xiaomi 1S Band we ordered never worked at all. Despite several attempts across several days, we couldn't get the tracker to connect with our phones via Bluetooth — and a user manual in Chinese couldn't help.
After testing setup (and ditching the two duds), we set out to find which were the most accurate, and which ones were the simplest to use, day after day, for multiple weeks — that's the only way you're going to get consistent stats on your activity level. We focused on three key data areas:
Step counting
We walked 100 paces wearing each band on our wrists, one at a time, then compared that to the steps the trackers actually recorded. We walked a loop to test each band's accelerometer for lateral movement as well as forward movement. The results are straightforward: Whichever tracker counted the closest to 100 steps is the most accurate.
| | |
| --- | --- |
| Fitness Tracker | Steps Counted |
| 1st: Mio Fuse | 101 |
| 2nd: Garmin Vivoactive HR | 106 |
| 3rd: ASUS VivoWatch | 93 |
| 4th: Fitbit Surge | 85 |
| 5th: Microsoft Band 2 | 83 |
| 6th: Polar A360 | 68 |
GPS Tracking
While not all of our finalists had GPS-tracking capabilities (it's not necessary for a good fitness tracker, but it is a cool feature), we wanted to assess to the accuracy of the three that did — the Fitbit Surge, Microsoft Band 2, and Garmin Vivoactive HR. We plotted a route using Google Maps that would require walking for exactly one mile. The path involved a winding road and several sharp turns to challenge the device's accuracy. Before beginning, we selected hiking or walking from the menu of workouts on each device, and then waited for each to sync up with GPS satellites. The Garmin connected first, followed by the Fitbit. The Microsoft Band 2 came in last: It took about 20 minutes before it connected. The Fitbit Surge was the most accurate at 1.03 miles. The Microsoft Band (1.15 mi) and Garmin Vivoactive HR (1.33 mi) followed. 
Heart-rate tracking
Unfortunately, wrist-worn heart rate monitors are inherently inaccurate. Fitbit, the manufacturer of our top pick, has actually gotten in some hot water for that very fact. Fitness trackers use optical sensors that measure your blood flow through the skin of your wrist. These sensors move around as you do, and are trying to measure the subtle movement of your heart from the far end of your arm — it's a small miracle they even work as well as they do. But just because they're usually off by a couple beats per minute doesn't make them useless. It just means fitness tracker heart-rate monitors shouldn't be used for medical purposes.
When we talked to Dr. Irv Rubenstein, a trainer who holds a PhD in exercise science from Vanderbilt University, he compared optical heart rate monitors to a home scale. "The home scale might be less precise than the scale used in a doctor's office, but if the user of that home scale is diligent about frequently weighing themselves on it at regular intervals, the home scale will allow them to track relatively accurate changes in their weight over time."
The same logic applies to fitness tracker heart-rate monitors: They can't tell you your exact heart rate, but they can tell you when it increases or decreases, and give you a sense of how much.
We still wanted to compare the heart-rate monitors of our top picks, our tester rode a stationary bike for 30 minutes with each tracker and then compared the heart rate monitor readings from each one with the handgrip heart rate monitors on the stationary bike. While a handgrip monitor is also going to be somewhat inaccurate — it's no EKG — it made a good benchmark comparison.
We then calculated the average deviation between each band's monitor and the exercise bike's monitors. Since the bike's monitors weren't 100 percent accurate to begin with, we took the deviations between the bands and the bike and averaged them out to find the overall relative accuracy of all the trackers. As a group, the fitness trackers averaged a difference of 2.44 beats per minute (BPM) from the exercise bike's readings. The trackers that consistently had an average deviation closest to the overall average of 2.44 BPM were considered the most accurate.
| | |
| --- | --- |
| Fitness Tracker | Average Deviation (BPM) |
| 1st: Mio Fuse | 2.33 |
| 2nd: Garmin Vivoactive HR (tie) | 2.16 |
| 2nd: Fitbit Surge (tie) | 2.16 |
| 2nd: ASUS VivoWatch (tie) | 2.16 |
| 5th: Polar A360 | 1.66 |
| 6th: Microsoft Band 2 | 4.16 |
Finally, we looked at comfort and durability.
Wearing a fitness tracker all day requires a certain standard of comfort — and, if you're as clumsy as we are, you need it to withstand the bumps and drops that come with regular physical activity. While our testers' observations were necessarily subjective on these attributes (it's difficult to accurately assess long-term durability over the course of a month-long test), we took note of the trackers that we didn't mind wearing all day, because they looked and felt good on our wrists, and didn't feel like they were going to break in our hands.
Our Picks for the Best Fitness Tracker
Best Overall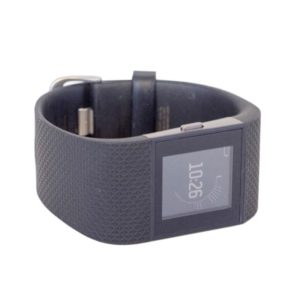 Fitbit Surge: Accurate and comfortable, the Fitbit Surge is also extremely easy to use.
The Surge was one of the most accurate fitness trackers we tested, and at $250 was about average in price for high-end fitness trackers. Using its GPS-tracking feature, it measured the actual distance our testers traveled the best, tied for second in heart rate monitor accuracy, and ranked fourth overall in our step-counting test, behind our other two top picks.
That fourth-place step counting finish doesn't sound so good, does it? It consistently undercounted our steps by about 10 to 15 paces from what our testers actually walked during each 100-step test. But honestly, we didn't mind so much: It's not a significant deviance from the exact number, and if anything, you'll know you always walked a little extra to reach your goals. The Surge is also decent-looking and comfortable to wear, feeling more like a normal watch than a small computer strapped to your wrist. Our testers had no reservations or complaints about wearing it all day, and the battery lasted about seven days before needing to be recharged.
Fitbit is almost synonymous with the term fitness tracker at this point, but it turns out that it has that reputation for a reason. Fitbit's software, especially its mobile app, was by far the best of any of the trackers we tested. It doesn't gather quite as much different types of data as our other top pick, the Garmin Vivoactive HR, but Fitbit's software does a much better job organizing that information. We were impressed by the common-sense, clean workout interface, and the Fitbit app is well-organized and inviting, analyzing and displaying information in digestible, usable ways. It was by far the easiest and most intuitive interface to get to know.
Fitbit's app offers easy-to-read stats as well as challenges if you and your friends want to get competitive.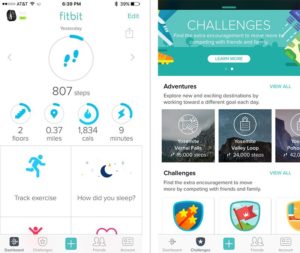 The selectable watch faces were also easy to navigate. You can choose from a number of workouts on the tracker itself; get text notifications; and easily check steps, mileage, and heart rate. All of our other finalists could perform these tasks, but the Fitbit's interface was the most straightforward for each function. For example, one of the Fitbit's watch face options (called "Flare"), elegantly shows your activity over an hour. Parts of the hour in which you've had a higher heart rate will display higher on the interface — a cool feature that allows you to keep tabs on your hourly activity without much effort, and isn't available through any other fitness tracker.
Spokes on the Surge's watch face radiate outward as you move during each hour. Longer spokes denote higher levels of movement. In the example above, the spokes highlight a bevy of activity starting just before 1:15.
The Surge has both the basic and the bonus features you'd want: It has a dependable Bluetooth sync and an iOS/Android app that incorporates features like real-time calorie tracking, and it allows you to track various categories of exercise, from weightlifting to biking. Its accelerometer and heart rate monitor automatically account for increased activity from actions like housework or gardening, too, and credit those activities toward your fitness goals. Another bonus: You can receive and read text messages directly on the device.
Robust social features let you form groups with friends who use fitness trackers (Fitbit or not) to keep track of consecutive days of workouts, and mileage, among other metrics. It's more than fun: Academic studies have shown that social pressure is a great way to keep yourself accountable for working out. The Surge will also send you push notifications or emails of its "badges" — an ever-growing list of fitness goals that the device will help you track. Don't get too excited about those badges. Dr. Rubenstein is "skeptical of many of these apps whose makers claim that they're going to make a difference in your lack of desire and willpower and discipline. I don't like anything that presumes to motivate people and change their health habits." Still, it's a feature unique to Fitbit's platform that provides positive reinforcement — which can't hurt.
Best for Endurance Training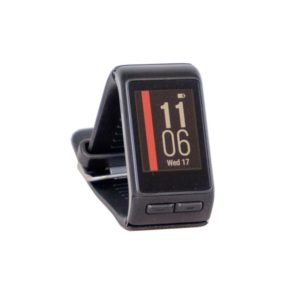 Garmin is another brand leader in the fitness tracker industry, and the Vivoactive HR demonstrates why. Our tests found it to be highly accurate, coming in second in all three of our accuracy tests.
The app is great at showing the nitty-gritty — granular details that highly motivated, dedicated athletes will crave. If you want to analyze what parts of a run made your heart race, you can; the app automatically generates "heart rate over time" charts for each of your workouts. If you want to map your run, Garmin can do that, too, using dedicated software. Not even the Fitbit Surge can do that. Garmin also lets you export your workouts to a third-party app for further deep-dive analysis.
But all that customizability means the typical user interested mostly in general health and the effectiveness of their workouts will probably find the Vivoactive HR as confusing as we initially did.
The app isn't the most intuitive: It easily told us how many steps we had walked over the course of a week, but we struggled to find data on one specific spin workout that we were looking for — turns out, it had already been aggregated into the "cycling page," and we couldn't find out how to isolate the workout from the rest of that category from the same week. We had to call a friendly customer service rep for help to make it work.
The Vivoactive HR's interactivity with our iPhones was a bit overwhelming, too: It displayed push notifications from all of one of our tester's iPhone apps, including Gmail, ESPN, and The New York Times. To change the settings, we had to remove the offending apps one by one. The Fitbit Surge's lone text message notifications were a minimal blessing by comparison.
Over time, the Vivoactive would likely become intuitive and useful, but all our testers agreed it's a little hard to get a handle on at first.
Like the Fitbit Surge, the Vivoactive HR also offers social features, but only with fellow Garmin owners. That might make for a lonely rivalry unless you can convince your friends to join the Garmin family.
The Vivoactive HR won serious bonus points with testers for being extremely comfortable, lightweight (1.67 oz to the Surge's 1.8 oz), and smart-looking. It has a well-lit, colorful touch display, and the breathable, slip-proof band was the best of any we tried. No matter how much we jostled, it never slipped — it's a great feature for serious runners or bikers who exercise in all weather. And the battery lasted a full eight days on a single charge (as long as the power-sucking GPS tracking is disabled).
Best Budget Option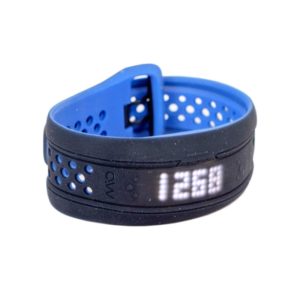 The Mio's simplicity, $99 price tag, and accuracy put it in striking distance of our top two contenders. It can count your steps and monitor your heart rate accurately — and that's it. But that's all many need to keep an eye on base levels of activity. If you're not training for marathons or regularly biking centuries, you might not need GPS tracking, calorie counting, or social media integration. That's why the Mio Fuse cruises easily into the budget pick slot — it doesn't have the same breadth of features that the Fitbit and Garmin do, but the features it does have work exceedingly well for less than half the price.
The Mio Fuse was the most accurate tracker we tested in the two data-collection areas it could compete in: step counting and heart-rate monitoring. (There's no onboard GPS sensor, so it's automatically disqualified there.) The only feature unique to the Mio Fuse when compared to the rest of our top finalists is that it's 100 percent waterproof to 30 meters, making it the perfect pick for swimmers, surfers, or rowers. Just be sure to put it into "workout mode" first, so the right motion sensors in the device will actually pick up your activity. The regular step counter won't work if you're not actually walking.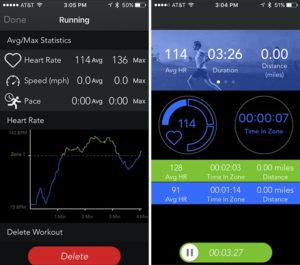 There's no touchscreen (which helped the battery last seven days on a charge), and a no-frills app just counts steps over weeks or days and tabulates average heart rates over given time ranges. But if you already have good exercise habits and just want to make small tweaks, or if you simply want to keep tabs on your baseline level of daily activity, the Mio is hard to beat.
Did You Know?
Fitness trackers collect their data from four main types of sensors.
Pedometers, or step counters, track how many steps you've taken each day, and are pretty common. Different sensors like gyroscopes, accelerometers, and pendulums are all commonly used to accomplish the same task: counting how many steps you take.
Accelerometers measure changes in motion — they determine whether you've started or stopped moving. All accelerometers measure on two axes: back and forth and side to side. Some have a third axis that measures up and down movement, too, which is helpful for weightlifters who need fitness trackers to count vertical motion.
Heart rate monitors are a fairly recent addition to fitness trackers, but allow you to keep tabs on your level of exertion throughout the day.
GPS sensors, which come in only the most expensive fitness trackers, track distance traveled without relying on a pedometer or accelerometer. The tracker constantly triangulates your position with satellites instead. It's great for sports like running, biking, and hiking, where a normal pedometer might be less accurate.
Our top picks have all of these sensors, except the Mio Fuse, which lacks GPS-tracking capabilities (but costs less than half the amount of the other two on account of it).
But each brands' sensors are, essentially, all the same.
Fitness trackers are marketed specifically to different niche user groups, such as swimmers, runners, and dieters. But, really, they all do the same thing: track your movement. They all use the same base-level sensor technology listed above (Fitbit, Jawbone, and Nike all get their sensors from the same company, for example). Some just do it more accurately than others, are more user-friendly, and look a little cooler while doing it.
The main difference between any two fitness trackers, besides how they look and feel on your wrist, lies in the proprietary algorithms each trackers' software uses to interpret the raw data the sensors pick up. That's why getting our hands on the top contenders and seeing how they actually performed in the field was so important.
Fitbit is in trouble over its heart rate monitors
Fitbit is currently being sued because, as plaintiffs claim, its heart rate monitors aren't accurate. The plaintiffs aren't exactly wrong: As our tests showed, the Fitbit heart rate monitor was off by more than two beats per minute — but none of the top contenders were totally accurate.
One could argue the disgruntled plaintiffs are missing the point: No company's fitness trackers' heart rate monitors are going to be 100 percent accurate, ever. Optical heart rate monitors are not nearly as accurate as chest straps, and even commercial chest straps aren't as accurate as what you'd find in a hospital or a professional sports training facility. Monitoring systems that maintain that level of accuracy and still fit into something the size of a watch would be prohibitively expensive. Just take your heart rate readings with a grain of salt — and if you require a system that is perfectly accurate, you'll be better of talking with a doctor.
The Bottom Line
The best fitness trackers will allow you to accurately keep tabs on your daily activity — whether that's walking around the house or biking 100 miles. They're great tools to get a sense of the overall trends in your health and workout regimen over time, but remember: any real changes in your level of fitness will come from your own actions.
Take Action
Tabulate your own data. The data you collect from a fitness tracker is most useful if you have a large store of it. Try jotting it down daily or weekly before deleting it. You'll be more able to identify trends over the long term if you can look back over time and do your own analysis.
Find an exercise you like and stick with it — or switch it up when you get bored. A full one-third of people who buy fitness trackers stop using them within six months, and that number increases to half over the life of the device. A fitness tracker won't encourage activity or a healthy lifestyle if you can't find exercise you enjoy to go with it.
Just breathe. It's interesting that despite the amount of focus fitness trackers place on heart rate, it's an autonomic response largely beyond your control. Intense exercise can raise it, but it's important to remember to focus on lowering it, too. Long, measured, and deep breaths can actually help lower your heart rate and drop stress levels on the cool down — which, in turn, helps cut down on injury and speeds recovery.
Wearable devices enable you to make changes, but they don't cause them. The Journal of American Medicine concludes: "The gap between recording information and changing behavior is substantial, however, and while these devices are increasing in popularity, little evidence suggests that they are bridging that gap." All this just confirms that you are the biggest factor in improving your level of fitness — not what's on your wrist. 
This article originally featured on Reviews.com and is reproduced here after receiving appropriate permissions.
http://www.reviews.com/fitness-tracker/