Fitness trackers in India are gaining popularity and India is buzzing with multiple wearable bands making its way and launching new products India. Fitbit is already a known player in this segment is by far the leader in the connected health and fitness market in the world. Recently, Fitbit launched an array of products in India and we got a chance to try out the new Fitbit Flex. Here is the Fitbit Flex review:
Fitbit Flex is a wireless activity and sleep-tracking wristband that offers a slim, minimalist design for people that are goal-oriented and tracks steps taken, distance travelled, calories burned, active minutes and sleep. When we opened the box it included one removable tracker, 2 wristbands (small and large), one USB charger and one wireless sync dongle.
I have been using this band as my fitness partner for the last one week where I continued to use it all through the day and night. Overall, it did the basic job well of calculating how much I moved and also got me motivated to get moving further. I walked 42 Kms in week one and was awarded a marathon badge by Fitbit. The weekly analysis is a good thing as it certainly gets you motivated to put in more effort in the second week.
Talking about the design of Flex, I found its quite simple and minimalist. The core is very small and light and is easily removable from the band for charging. The rubberized strap is also light and comfortable to wear and easily straps around the wrist. It doesn't have any display but uses a combination of five LED lights to indicate progress. LEDs light up when you progress towards your daily goals where each light indicates 20% of goal achieved.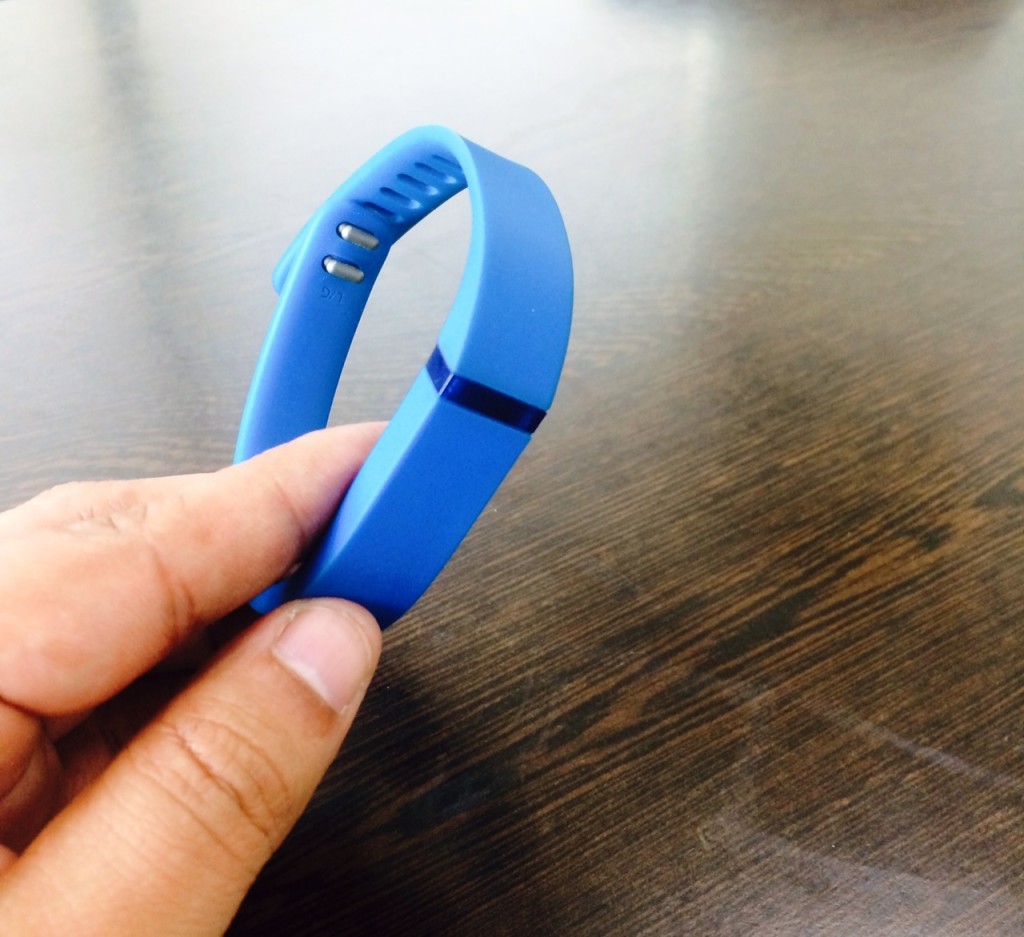 In terms of functionality and doing the job of tracking steps, it did fairly well. We did not compare Flex with any other band, however, my iPhone was already doing the job of calculating my steps through its health app. I made sure to carry my phone whenever I was walking or jogging, to get comparable results with Flex. Honestly, each gave me different steps count on all 7 days. I found that the health app on iPhone was giving higher steps count then Fitbit Flex, although the variation was in the range of 600-1000 steps. 
Well it sure doesn't tell us which one is more accurate but since the variation was within 1000 steps, I can believe that Flex was giving near accurate steps count every day.
The tracker also did fairly well to track sleep every night. What I would have liked more about the sleep tracking part was an easy option to activate the sleep mode. Every time in order to to activate this mode, I had to go to my phone, open the app and select the sleeping mode option. 
I think some combination of taps on the device to start the mode could bring more joy to the users. One point I would like to mention here is that on few occasions when I had woken up couple of times in the night, the tracker still showed that I slept straight through.
When it comes to syncing the data, you have the option of downloading Fitbit app on your Android or iPhone device. The wireless data syncing is smooth and quick. It also comes with a small USB dongle for syncing to Mac or PC. Another good thing about the device is that it is water resistant and you can take the band with you to the shower. It also allows you to set alarm where the band vibrates in order to wake you up.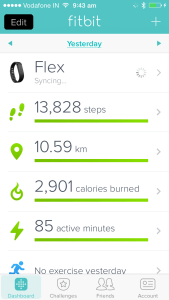 Quick wrap
What we liked:
Simple design and a light & comfortable band

Super battery life of upto 5 days

Neat and bug free App for ios and Android which allows wireless syncing

Quite accurate in calculating the steps

Its water resistant
The only possible downside I see for the band is the pricing (INR 6,990), especially when competitors are offering a similar band for much lesser price.
Conclusion: Leaving the pricing apart, it's a no nonsense band and does it job well. It's very light and you feel comfortable wearing it all day and night. The long lasting battery life makes it easy to use it continuously for more than 5 days without worrying about charging. I would recommend it for people who are looking for a straight forward fitness partner to inform and motivate.