Fitness enthusiasts take up at least one of Walking, Running or Jogging as part of their
regime to keep fit
India has witnessed a fitness revolution, with FitGen opting for healthier lifestyles by not just experimenting with their fitness regimes, but also keeping a close tab on their nutrition intake. With the objective of taking its philosophy 'Fitness is Life' to Gen Z, Reebok India conducted the country's first ever fitness survey – Fit India Survey in 2017 to reveal India's fitness quotient.
This year, on the occasion of World Health Day, Reebok launched Fit India Survey 2.0 to trace India's fitness journey over the past two years. And much to the disappointment of skeptics, numbers from the second edition of the survey prove that millennials are increasingly opting towards a healthier lifestyle, with 95% respondents indulging in atleast one fitness activity – running, jogging or walking.
Over 2200 men and women, between the age group of 18-35 years, were surveyed across the top 9 cities of India – Delhi-NCR, Mumbai, Bangalore, Kolkata, Pune, Hyderabad, Chennai, Ahmedabad and Chandigarh – as part of Fit India Survey 2.0 and among all Kolkata scores the highest FitScore (combination of number of fitness activities participated in, frequency of working out & nutritional awareness) of 9.00.
| | | | |
| --- | --- | --- | --- |
| Rank | City | FitScore 1.0 | FitScore 2.0 |
| 1 | Kolkata | 6.71 | 9.00 |
| 2 | Delhi NCR | 6.70 | 7.99 |
| 3 | Mumbai | 6.68 | 7.64 |
| 4 | Chandigarh | 7.35 | 6.60 |
| 5 | Hyderabad | 6.6 | 5.96 |
| 6 | Bangalore | 6.34 | 6.43 |
| 7 | Chennai | 6.20 | 6.02 |
| 8 | Pune | 7.65 | 5.73 |
| 9 | Ahmedabad | – | 5.32 |
While Kolkata is closely followed by Delhi-NCR with a FitScore of 7.99, Pune on the other hand dropped from number one position in 2017 to the 8th on this year's list with a low FitScore of 5.73.
While Kolkata was recently in news for 5% of the city's population being overweight, the survey shows that the younger generation in the city is much more conscious about adopting a healthier lifestyle and is making better fitness choices. 61% respondents from the cityprefer unconventional fitness activities like CrossFit, Kick-boxing, MMA and Combat trainingas part of their fitness regime.
Discussing the Fit India Survey 2.0 results, Mr. Sunil Gupta, Brand Director, Reebok Indiasaid, "We at Reebok know that through fitness, and through movement, people will benefit. It is exciting for us to see how India is working harder (and smarter) to increase its fitness quotient, and for us to be an integral part of that journey. We are committed to helping people become the best version of themselves, and findings from this year's survey make us believe that we are headed in the right direction." 
Tapping the fitness pulse of Indians, the Fit India survey decodes interesting findings ranging from fitness activities pursued, sources of fitness knowledge, impact of social media, purchasing habits, nutritional requirements, growing athleisure trends and more.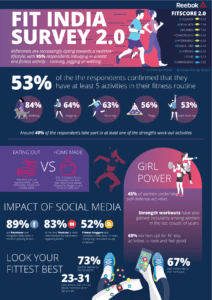 FITNESS IS LIFE
Sedentary lifestyles and long hours at work make it challenging to invest in long-duration fitness workout sessions. However, the good news is that millennials are making smart choices and experimenting with varied fitness forms to keep things interesting. Over half the respondents (53%) have confirmed that they have at least 5 activities included in their fitness regime, with Walking (84%), Jogging (64%), Running (63%), Yoga (56%) and Gym training (53%) emerging as the top choices.
Around 40% of the respondents take part in at least one of the strengths work-out activitiesi.e. Pilates, Aerobics, CrossFit, Kickboxing, Zumba and Combat-training. Not surprisingly, Zumba is also gaining prominence as a fitness form especially amongst women, from 11% respondents enjoying it in 2017 to 18% in 2019.
For more than 9 in 10 people practicing yoga, with "better health and fitness" emerging as an underling motivation. For 2/3rd of the respondents, achieving better flexibility and reducing stress are the second-most important motivating factors to take up yoga.
GO, GIRL POWER!
This year's survey reveals an increase in women undertaking self-defense activities, with 45% respondents including it as part of their fitness regime.
Strength workouts have also gained popularity among women in the last couple of years. Interestingly, most women practice it with the objective of improving fitness (84%), building self-confidence (82%) and losing weight (61%).
54% female respondents have also claimed to participate in a marathon, half-marathon or a quarter marathon. The popularity of the activity is driven by limited investment in equipment, and the fact that it can be combined easily with other activities.
Not surprisingly, the survey also revealed that 68% women opt for fitness activities to look and feel good.
LIKE, SHARE, COMMENT
The internet and social media are making their presence felt in the changing paradigm of fitness in India with YouTube (83%) cited as the most preferred medium for information on fitness. Facebook (89%) beats Instagram (68%) when it comes to consumers posting fitness content. Interestingly, Fitness bloggers (52%) beat celebrities (26%) when it comes to inspiring consumers to opt for adopting fitness as a way of life. 
STAYIN IN, OR EATING OUT
In an uncommon gender score, both men and women are equally aware of the nutritional content of the food they intake. Almost 1/3rd of the respondents prefer eating out or order a takeaway every day. Of the metros, Delhi-NCR eats out regularly (40%), closely followed byKolkata and Mumbai (38%).
On the contrary 91% of Kolkata's fitness enthusiasts have their main meal home cooked, followed by Bengaluru and Chennai at 90% each.
LOOK YOUR FITTEST BEST
With brands offering a range of smart and savvy workout shoes and apparel, it comes as no surprise that 73% feel the need to be 'fashionably fit'. An overwhelming 73% of the respondents wear active-wear in instances other than when they are a part of a fitness activity of which 67% wear it every day to their workplace.
Most young consumers between the age of 23-31 years tend to own a fitness device more than other age groups. The most important statistic for consumers while wearing a fitness tracking device is to track the steps taken and calories burned during an activity, followed by distance travelled and heart rate.