The popular Garmin has now launched Vivofit in India — a stylish, lightweight fitness band that comes with 1-Year Battery Life. Vívofit will be exclusively available on Flipkart at a Rs. 9990, in black and slate colourboth small and large sizes that come in the box. Customers can also purchase purple, teal and blue colour belts. Buy here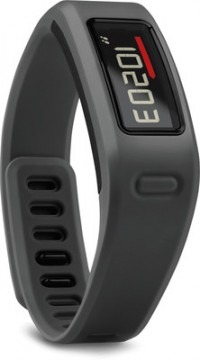 Vívofit is the latest from Garmin's expanding fitness segment. Garmin fitness devices are becoming essential tools for athletes both amateur and elite, for tracking their running and cycling activities.
Vívofit automatically greets users with a personalized daily goal, tracks their progress and reminds them when it's time to move. Featuring a unique, curved display that always stays on, vívofit also shows steps, goal countdown, calories, distance, and time of day. Vívofit's user replaceable batteries last over one year and vívofit is water-resistant (50m), as well as being compatible with ANT+™ heart rate monitors1 for fitness activities.
"Garmin has been providing fitness monitoring devices for over a decade, and with vívofit we say hello to the fitness band that knows your potential," said Tony An, Sales and Marketing Director, Garmin Corporation. "Being able to monitor the quality of rest after retiring for the night, being challenged by personalized daily goals and doing so without having to charge it every few days, makes vívofit a fitness band that should be on everyone's wrist."

Commenting on this partnership, Michael Adnani, VP – Retail & Head – Brand Alliances, Flipkart said "Flipkart is a preferred partner for leading global and domestic brands to reach out to a wide range of customers in India. With this partnership, we are introducing an innovative fitness product for the first time in India. This is an extension of our commitment to bring world-class fitness products for our customers backed by our superior service."
Vívofit learns users' current activity level, and then assigns an attainable daily goal. As milestones are met, vívofit will adjust the goal for the next day. Research shows prolonged periods of inactivity, such as sitting at a desk, decreases the body's production of fat-burning enzymes. Taking frequent, short walk breaks throughout the day can reverse this. And while it is easy to lose track of time and forget to move, vívofit knows. A red move bar appears on the display after one hour of inactivity and builds when users have been sitting too long. Walking for a couple of minutes will reset the move bar, and get users out of the red.
Vívofit follows progress 24/7, and it can stay on for more than a year without a battery change. Setting the sleep mode when going to bed allows vívofit to monitor the quality of rest. With the touch of one button, users can wirelessly sync vívofit with Garmin Connect™, a free online fitness community with currently over four billion miles uploaded by users. At Garmin Connect, users can see a complete picture of their progress through easy to read reports and graphical representations, including their total sleep hours, as well as periods of movement and restful sleep. Also at Garmin Connect, users can join online challenges with other vívofit users or start their own competitions with friends to compete for virtual badges and bragging rights. Users can access this free online community from their computer or on their compatible mobile device2 with the Garmin Connect™ Mobile app.