New Delhi, January 21, 2015: TomTom has made available today its range of GPS sport watches in India. The TomTom Runner and Multi-Sport GPS watches deliver real-time information such as time, distance, heart rate, pace, speed and calories burnt to runners, cyclists and swimmers.
The TomTom Runner GPS Watch is priced at 12,999 INR, the TomTom Multi-Sport GPS at 15,499 INR. TomTom Runner Cardio GPS Watch and the TomTom Multi-Sport Cardio Watch are priced at 20,999 INR and 23499 INR respectively. They will be exclusively available on flipkart.com.
The TomTom Runner Cardio has a built-in heart rate monitor to help runners measure heart rate without the need for a separate, bulky and uncomfortable chest strap. An extra-large display, full-screen graphical training tools and the industry's first one-button control make it easy for fitness enthusiasts to access real-time information to help them achieve their goals. 
Andrew Cooper, SVP Sales APAC, TomTom, said, "Our research shows that 95% of runners consider their GPS watch to be their perfect training partner. However, we see a gap between the number of runners and the penetration of GPS sport watches primarily due to lack of understanding on the benefits of running with a GPS watch. By launching fitness products with industry leading innovations, we expect this segment to grow at a rapid pace globally, and in India."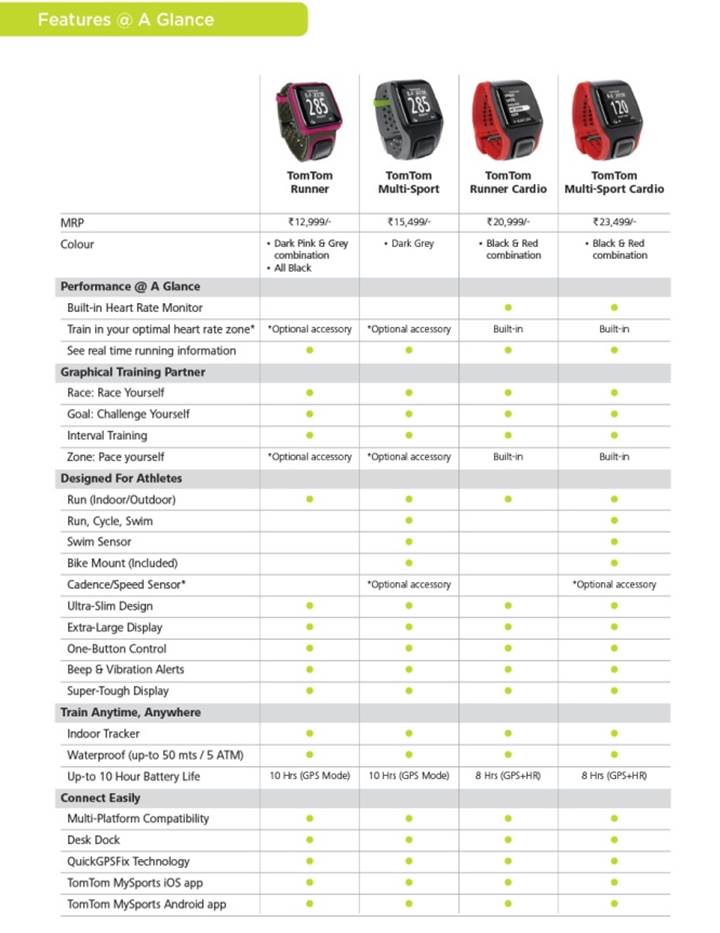 "Running is an important part of the changing life-style of the young, upwardly mobile Indian" says Kavita Nath, Country Manager, TomTom India.  "Our research suggests that access to real time information during a run is one of the easiest ways for a runner to improve their performance, making the GPS watch an essential part of any runner's kit."