Yes, that's the news that would cheer any football fan in India. LaLiga, the Spanish football league has launched its office in India with an aim to boost LaLiga's presence & reach in the country that watches football religiously.  
With growing popularity of football in India, LaLiga enjoys a large fan following here where people gets to watch top international players including Lionel Messi, Cristiano Ronaldo and Neymar in action.
LaLiga has now formally opened its doors for fans and cooperates in India to partner with LaLiga and leverage from its mass reach and presence globally.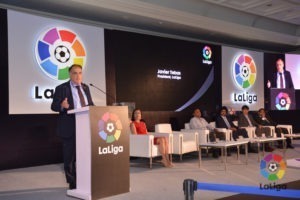 Javier Tebas, president of LaLiga football was present for the launch press conference of office on Thursday, September 15th, 2016 in Delhi. He was joined by Vicente Casado, LaLiga's managing director of international development, LaLiga ambassador Fernando Morientes, Spanish ambassador to India, Magdalena Cruz; the secretary general of the All India Football Federation (AIFF) Kushal Das.
On this special occasion, Spanish football legends, Carles Puyol and David Albelda, also shared their messages for the upcoming projects.
Tapping on the growing business of football in India
Speaking on the inauguration of the office in India, Javier Tebas said, "It means a lot; this is one of the most important days in LaLiga's history. Being present in India is very important to us. We have been working hard towards this for a while and have even made changes to kick-off times with Indian fans in mind. I want to highlight the efforts of Sony, our broadcaster in this country. We've got to grow together if we are to become the best. I hope that our new office will enable us to achieve our dreams." 
He further added "We want to share our knowledge with India's young people and we will also be contributing to training coaches. That will play an important role for us and the future of Indian football alike." 
Meanwhile, LaLiga ambassador Fernando Morientes highlighted the importance of LaLiga on the international stage, offering a reminder that the league represents the best competition in the world, before adding that, "India is a very important destination in LaLiga's development and it's a pleasure for us to be here." 
What the launch means for football fans in India
Sony ESPN and India On Track (http://indiaontrack.in/) are LaLiga's partners in India.
Fans of LaLiga in India will be able to follow the competition courtesy of Sony, whose CEO, NP Singh, is in no doubt as to just how successful the product will prove to be: "We're very happy to be expanding throughout India with the help of LaLiga. With LaLiga on board, we now offer coverage of football from the best league in the world. I want to welcome them to this new office. I'm sure that this will represent an important step for the development of the competition in our country."
Gaurav Modwel, chairman of LaLiga's local partner agency, India on Track, expressed his satisfaction at the opening of the office: "It's one of the best followed leagues on the planet. It's great news that they've decided to open this office, which, without any doubt, will play an important role in bringing the fans closer to the action." 
The statistical information relating to football in India reflects the considerable social interest in the sport throughout the nation. The average profile of football viewers evidences the market's massive potential for growth. Of particular note is the even gender balance in viewing figures, with men representing 53% of the audience and women the remaining 47%. In total, 75% of the football viewing audience are aged between 18 and 44, with over 85% of them students or trained professionals with high purchasing power. In terms of the devices used to watch football, studies show that around 53% of spectators tune in to the TV, whilst 24% use a PC/laptop and the remaining 23% catch the action on their smartphones or tablets. 
Well the fans in India will definitely be hoping for some El Clasico action or the likes of Messi & Cristiano in action on the Indian turf in India. Let's stay tuned!
Video: https://twitter.com/LaLigaEN/status/776354167673786368