Navratri is all about festivities and it is that time of the year when people fast throughout the day and at the end of the day gorge onto some scrumptious food. Though fasting is a holistic practice, this 9-day festival brings with itself an excellent opportunity to cleanse and detoxify your body.
Many people often wonder why some people keep themselves deprived of food during Navratra. However, if you closely look at the Navratri plate, you will find food covering possibly every nutrition one can think of.
The whole structure of keeping a fast during the Navratras is based on the idea of following a healthy lifestyle. If followed properly,  this can prove to be one of the best detox programmes.
Now many of you must be wondering that though the ingredients used in Navratra are healthy for the body, we make dishes like puris and pakodas that are deep fried. Does that still mean these ingredients are a healthy option? After reading this, are you thinking of switching to fruits? Well, if really you want to switch something, switch your cooking style and not your food. The cooking methods that include deep frying in ghee/oil make the food fattening. Instead, bake the dishes in the oven or an air fryer and enjoy a healthy yet wholesome meal.
We bring you some healthy foods that you can opt for this Navratri, and follow a nutritious and balanced diet.
Kuttu ka Atta
Kuttu ka Atta is a highly nutritious cereal and is also extremely helpful in weight loss. Kuttu ka Atta is a rich source of protein, fibre, magnesium and iron and has very little calories. The cereal curbs our appetite and helps control blood sugar level and maintains a good digestion.
Sabut Dana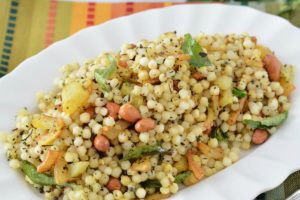 People relish this classic food item during the Navratras. Though sabudana is a low calorie and high carb ingredient, its accompanying ingredients make the dishes created from it a nutritious meal. Since the sabudana is a rich source of carbohydrates, it boosts the much-needed energy during fasts. Add peanuts or potatoes to sabudana and make delicious vadas or khichadi.
Sweet Potato
A common food that people eat during Navratras is a potato. However, a healthy alternative to this is a sweet potato. The food is low in starch and a rich source of vitamins and fibre. You can make chaat or tikkis from sweet potato and stay guilt-free.
Sama Chawal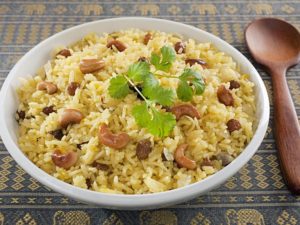 Sama Chawal is a perfect replacement for rice. The taste is almost similar to that of broken brown rice and is a rich source of fibre, B-complex vitamins, magnesium and iron. The food provides energy and helps in lowering cholesterol.
Makhana

Makhana is a popular fasting food and is loaded with antioxidants and has high fibre content. Surprisingly, it acts as an anti-ageing food and prevents white hair, premature ageing and wrinkles. Furthermore, these nuts help in strengthening the body and controlling diabetes, blood pressure, insomnia and palpitation.
When preparing dishes from any of the above-mentioned foods, always remember to use only Rock salt popularly known as sendha namak. This helps in controlling blood pressure and is also better than common salt.
Now that you know all about the healthy Navratri foods, this festive season detoxify your body in the right manner as well as seek the blessings Maa Durga.
Happy Navratri!
Image Courtesy: Google