Legendary Coach 'Rick Muhr' introduces the innovative Zero Runner mechanism.
Fitness First, the leading health club group in the world, has introduced a new training concept tool called "Zero Runner" by Octane Fitness in India. 
This product reinvents walking, jogging or running by eliminating repetitive, stressful impact on the body – unlike a treadmill. It features mechanical hip and knee joints that mimic human biomechanics in running. The independent pedals allow runners to replicate their natural running gait, just like outside, providing support throughout. The Zero Runner is considered to be the most impressive, innovative and progressive tool by Octane Fitness.
Commenting on the association Mr. Vikram Bhatia, Managing Director, Fitness First India said, "Zero Runner is surely one-of-a-kind training solution that can revolutionize running in India. This innovation genius has already received rave reviews across the world. Fitness First India is extremely proud to be the first ones to introduce this product. Our association with Fitness will provide our members an opportunity to learn and train on the Zero Runner with the legendary marathon runner Rick Muhr.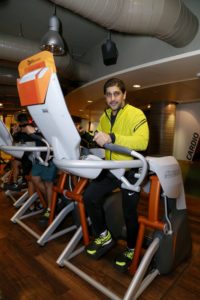 We are also in the process of developing a unique running club that provides the running community the facility to train in our clubs with our trainers and also to give our members the opportunity to experience the benefits of running. Rick Muhr has helped by providing us strategic inputs, and we are looking to launch in summer."
On his visit to India, Coach Rick Muhr said, "India is rapidly adopting the culture of fitness and running, people here are open to new techniques and training tools to improve their form. I am glad to be a part of Zero Runner launch by Fitness First to its members in Delhi. It will be a great opportunity for me to share my experience and learning's as an endurance runner and coach."
How Zero Runner can benefit you:
Natural motion that replicates walking, jogging or running

Dynamic stride length up to 58* to fit users of all sizes

Patented hip and knee joint

Intelligence that traces your stride

Console displays all essential workout data

Smartlink compatible

Wireless heart rate

Digital contact heart rate

Cordless power operation
In 2014, Octane Fitness assigned Rick Muhr the role of demonstrating the value of this radical training tool. As a part of his role Rick works with health clubs, fitness professionals, exercisers and fitness enthusiasts nationwide to enhance their fitness and running performances.  His extensive experience along with his inspiring style has been fuelling people's lives with new zeal. He discovered the innovative training tool at the Boston Marathon Expo in 2014 and has recently completed 51 miles on the Zero Runner in 6:44:57.
During his visit to Fitness First, Select City Walk, Rick Muhr will be training the members and the trainers on how to efficiently train for a marathon, running for a healthy lifestyle and most importantly the right techniques and implementation of the Zero Runner.