KARAM Industries has partnered with the Government of India to provide chemical splash goggles for doctors and the police workforce across the country amidst the Covid-19 outbreak. The company has been manufacturing around 8,000 goggles on a daily basis and has already provided 30,000 goggles for the real heroes in the country.   
KARAM Industries that manufactures all PPE from Head to Toes like safety helmets, face shields, safety shoes, full-body harnesses, other fall protection equipment and eyewear has been given the Health Ministry's permit to produce around 6,00,000 safety goggles at its plant in  Sitarganj, Uttarakhand. KARAM has been successful in producing around 8,000 chemical splash goggles for doctors using PPE kits across the country. Moreover, the company is also making around 10,000 goggles for the police workforce. All these products will be procured by the health ministry.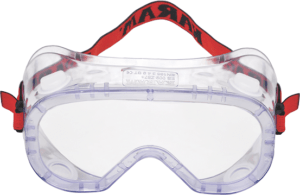 Commenting on the initiative, Mr. Sandeep Arora, National Sales Head, KARAM said, "KARAM is committed to supporting the government's response to the COVID-19 pandemic. There is a shortage of vital equipment needed to protect the healthcare staff and police personnel and as a manufacturer of PPE, it is our responsibility to come forward and contribute towards the safety of our hard-working taskforce. At KARAM, we completely ensure that all our products meet global quality standards and are certain that these chemical splash goggles are the right choice to ensure the well-being of the users" 
KARAM is ensuring the well-being of its employees at the manufacturing units by stringently following social distancing and all the directives laid down by the government. Every employee is maintaining proximity of 1-2 meters from their fellow employee. Additionally, every worker is wearing safety equipment while working at all times and every corner of the unit and premise is sanitized on a daily basis.