Your health is in your pocket, literally, for anyone who uses a Smarthphone. Smartphones now enables you to monitor, track and improve your fitness through apps. But with so many options to choose from, it can get really tricky to pick the right running/ workout partner (read App), which also acts like your personal trainer for your journey towards fitness Nirvana.
You can choose the right App based on your fitness requirement, goal and mobile handset (configuration) and we have listed below some of the top free apps available for different mobile platforms. Wish you a happy workout!
RunKeeper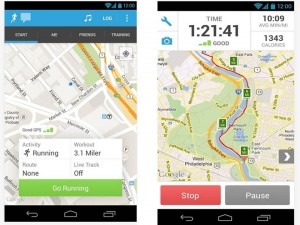 RunKeeper is one of the most popular free App to track your pace and measure workout distance, chart weight loss etc. RunKeeper is a fairly simple App to track your fitness, from a 5k daily run, cycling, to even long distance running. It is also one of the smoothest app (doesn't hang) for tracking your fitness.
Available for: Android and iOS | Required space on mobile: 23.06 MB (Android), 33.2 MB (iOS)
Key features:
Calculates running pace, cycling speed, route distance, elevation and calorie burn for any fitness activity – real time
One can find and follow pre-planned routes and map your run or walk on the go
Get audio updates while you work out about your total mileage, calorie count, pace, speed, mileage
Sync your Polar Heart Rate Monitor to track your heart rate and stay in heart rate zones
Run while listening to music – RunKeeper automatically integrates with your phone's music app
Get coached with 10k, Half Marathon and Full Marathon training plans for more advanced runners built by renowned coaches like Jeff Galloway
Easily share your fitness activities and successes with your friends on Facebook, Twitter and beyond!
 Endomondo Sports Tracker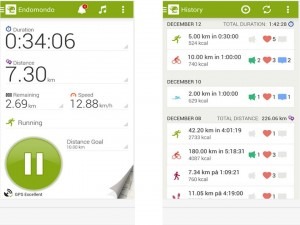 One of the lightest App for your phone, Endomondo is available across platform. It tracks any activity or other sports involving movement across a distance – running, cycling, walking, skiing, kayaking, skating. All your workout data is automatically sent directly to your profile on www.endomondo.com.
Available for: Android, Blackberry and iOS | Required space on mobile: 15.26 MB (Android), 21.2 MB (iOS), 2 MB (Blackberry)
Key features:
Track almost any distance-based sport and view duration, speed, distance, calories and more
You can enter indoor workouts manually
Track your heart rate (works with BTLE, BT and ANT+ heart rate monitors)
Analyze performance like split times for each workout
Set a workout goal and let our audio coach help you reach it
Receive (and send) real-time audio pep talks from friends
Race against a friend's personal best performance
Share results and workouts on Facebook and Google+
Workout photos, #hashtags, tagging of friends, automatic pause when stationary, customizable home screen, countdown, and much more
Nike + Running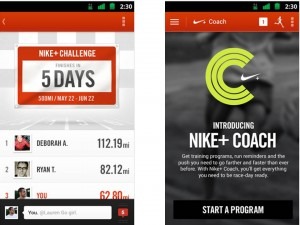 Nike + Running is another great App from one of the most popular running, sports and fitness brand in the world, Nike. The Nike+ Running app tracks distance, pace, time and calories burned with GPS, giving you audio feedback as you run.
Available for: Android and iOS | Required space on mobile: 31 MB (Android) and 47.7 on (iOS)
Key features:
Nike + running lets you stay on track., no matter where you are. On the trail, treadmill, or streets, your phones GPS and accelerometer accurately track your distance, pace and time. You can also track your metrics at every mile with in-run audio feedback
Compete with your friends for the top leader board spot, or go toe-to-toe against them in a Nike+ Challenge. Just set a distance, invite your friends and race to the finish
Get guidance and training: Whether you're looking to take on your first 5K or smash your marathon PR, Nike+ Coach gives you a training program, coaching expertise and daily workouts to get you race ready
Runtastic Running & Fitness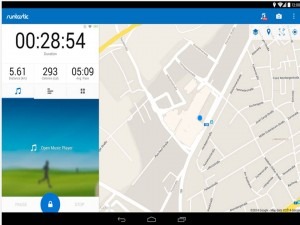 Runtastic is a great fit for users of all fitness levels. It uses GPS to map and track sports and fitness activities, such as: running, jogging, biking & walking. The 4.5+ rated app tracks cardio workout progress (time, distance, elevation change, calories & more) to help you build healthy lifestyle habits and reach exercise goals. Runtastic has recently been revamped to enhance your user experience!
Available for: Android, Windows, Blackberry and iOS | File size on your phone: 21.8 MB (Android), 38 MB (iOS), 18 MB (Windows)
Key features:
One can enjoy music with Google Play Music, Spotify, Pandora, Sound Cloud & more, directly within the Runtastic app (available on Android 4.4 only)
One can become a part of a global fitness community of over 30 million registered users that is fun and motivational today – whether you're looking to improve your overall health, build cardio endurance or train for a marathon!
Personal workout diary, metrics & graphs
Mapping: Detailed live mapping & historic mapping of training sessions (Google Maps)
Runtastic Earth View: Watch your workout in 3D (free Google Earth App required)
Live Tracking & Cheering: Share location, receive messages for motivation to run further Customizable dashboard configuration
Auto Pause: Session is paused automatically when you stop moving
Post-activity details: Enter mood & surface info, receive hydration recommendation